Lightweight Trailers For Your Current Vehicle
Camping isn't exclusive to owners of fifth wheels, RV's, and toy haulers. There are plenty of ways you can explore the great outdoors without breaking the bank, and by keeping your current vehicle.
If you're a solo camper, couple, or new family these lightweight trailers might be for you! Since these trailers are typically smaller, it makes them easier to pull on off-road adventures and a lot easier to maneuver.
There's been a heightened interest in budget-friendly, easy to use rigs which has made for a lot of options on the market that you can most likely tow with your current vehicle. 
Bean Stock Trailer
This trailer shares the same construction and refinement as the other Bean trailers, but is a lighter, more cost-effective option for someone who wants to save weight and/or dollars. It has the same one-piece fiberglass shell and composite side walls; the same torsion axle and frame as the Mean Bean.
If you're really looking for a killer deal, you could WIN A FREE BEAN TRAILER HERE! RVLock and Bean Trailers have teamed up to giveaway a free Bean Trailer fitted with all RVLocks. You do not want to miss this opportunity and it takes less than a minute to sign up. The last day to enter is July 22nd, 2022. Goodluck!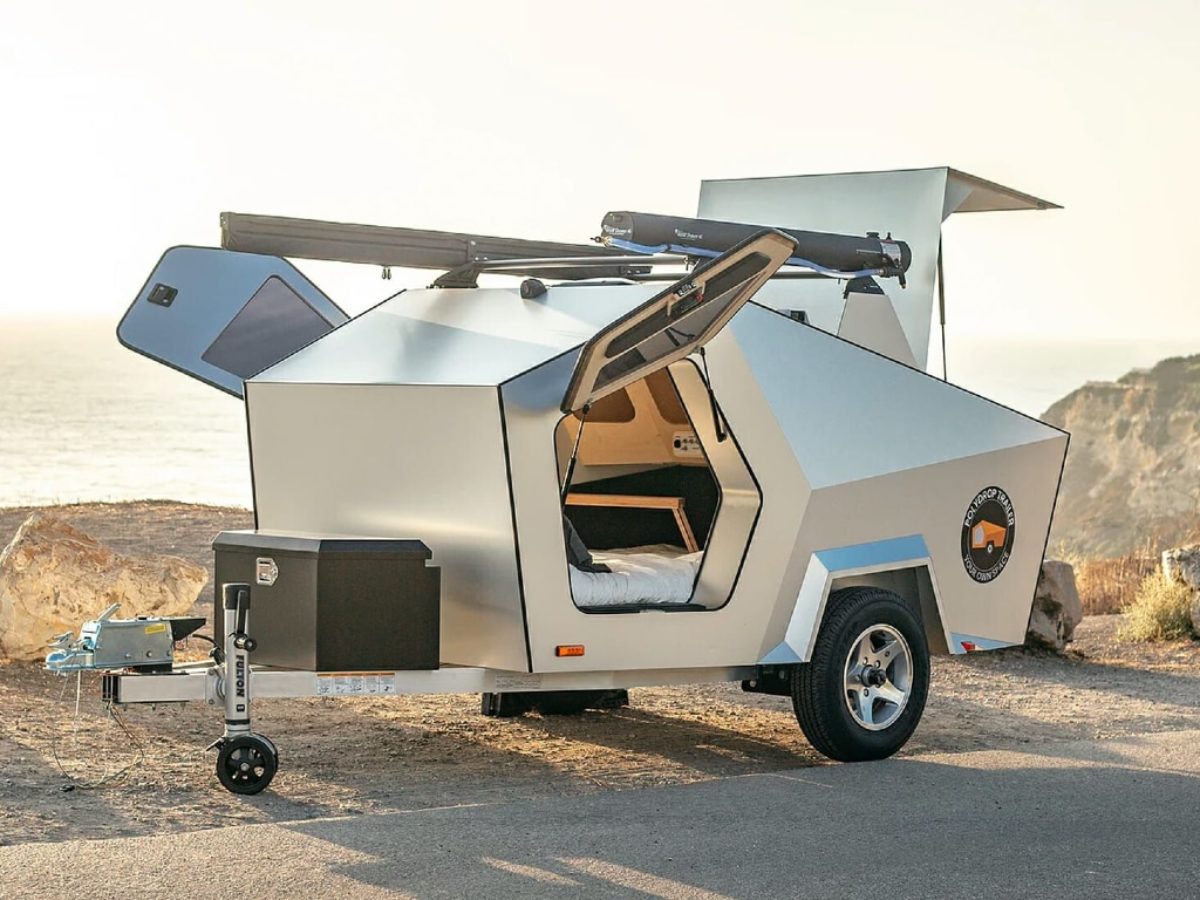 Polydrop P17A 
The Polydrop P17A is engineered to be towed by electric vehicles. While roadtripping in an EV might not be for everyone (yet), this lightweight trailer is an exciting development. Featuring solar panels, LiFePO4 batteries, A/C, and a heater, this trailer is built for off-roading and camping in all seasons.   
Casita Heritage 17' Deluxe
This fiberglass trailer features a converting dinette as well as two bunks, so it can sleep up to four people. There's also a wet bath, kitchenette, and plenty of storage space. Add on an aluminum-cased power awning and outdoor shower so you can fully enjoy the outdoor space.
Aliner Expedition
This pop-up trailer essentially doubles its livable space when the A-frame is unfolded. Choose from a variety of configurations, including permanent beds, sofa beds, and a dinette conversion. Depending on your layout you can choose to have an optional cassette toilet; all layouts come with a standard outdoor shower. Cooking is easy with a three-way fridge, a two-burner stove, a microwave oven, a sink, and an optional, add-on grill.
Little Guy Mini Max
With an interior height of 6 feet, the Mini Max is roomy for a teardrop trailer. The spacious wet bath, kitchenette, and dual sleeping and living area give you enough space for two people to comfortably travel. Other highlights include the four large windows that give you plenty of natural light.   
Starcraft Autumn Ridge 172FB
At less than 20 feet long, this lightweight trailer packs a lot into its layout. Featuring a full, dry bath, kitchen, dining area, and bedroom, this rig can comfortably accommodate up to four people. Outside you'll find a power awning and storage bay. With a decent-sized fresh water tank, you can easily go off the grid. 
Forest River r-pod Travel Trailer RP-190
This lightweight travel trailer is roomy enough to be used by minimalists for full-time living. It features a large dry bath and separate living and bedroom areas with room for four people. There are tons of storage cabinets and even a slide-out. 
Escape E17 HATCH
You can easily bring along your toys because of the rear hatch door in this rig. A separate living and sleeping space divides the trailer with enough room for a kitchen, dinette, and dry bath. Enjoy open-air camping with the hatch opened and screen rolled down. This affordable, lightweight travel trailer has been named a 2021 Top RV Debut by RVBusiness.  
Taxa Outdoors Mantis
Designed by a former senior architect for NASA's Habitability Design Center, Taxa's rigs are built with a purpose. The Mantis comes standard with a full galley kitchen and full-sized bed with the option to add on a wet bath. There are plenty of creative storage spaces and the back hatch opens so you can enjoy the outdoors. 
Jayco Jay Feather Micro 171BH
Ideal for families, this lightweight travel trailer sleeps up to five people between the queen-sized bed and bunks. There's also a full kitchen, living area with dinette, and dry bath with a tub and shower. With a large fresh water tank, you can easily dry camp with everyone on board. 
Escape 21C
This spacious floor plan includes a converting dinette, wet bath, separate sleeping area, and full kitchen. The fiberglass trailer is easy to tow, has plenty of storage, and can comfortably fit four people. Escape trailers come with tons of upgrade options, including a composting toilet, compressor fridge, built-in microwave, additional outlets and lights, and more.
These rigs would be the perfect addition to your weekend travels. Make sure when looking for trailer for your current vehicle, always pay close attention to the specs and use the VIN (vehicle identification number) to find towing capacity and payload capacity for your specific tow vehicle. 
See You On The Road! 
Share
Comments
0