CLASS C/A RIGHT HAND RVLock Keyless Entry Door Handle
The RVLock Class C/A is a premium upgrade designed only for select Class C & A motorhomes. Most C/A motorhomes with the entry door behind the front axle will have compatibility with this lock. Very few motorhomes today come standard with a keyless option. The RVLock Class C/A is the only aftermarket keyless handle available on the market.
The exterior handle features an ergonomic grip that gives more leverage than a traditional handle. A weatherproof backlit keypad comes standard with every Class C/A handle. For added accessibility, every RVLock Keyless handle comes with a 4-Button FOB. Key alike capabilities allow you to control multiple doors and compartments with a single fob - only offered by RVLock Keyless. 
Review our fit guide to determine compatibility for your existing motorhome handle. Optional jamb plates are sold separately.
Ditch the keys and upgrade to the industry's leading keyless handle!
- 1 Remote FOB
- 2 Custom Code Keys
- Installation Hardware
- 4 AA Batteries
- Installation Instructions
- DOT Compliant
- Fits a variety of Class C & A motorhomes
- RVLock Lifetime Warranty
- Ergonomic Grip Design
- Adjustable Door Pins
- Weatherproof Backlit Keypad
- Authentic RVLock handle
- Silent Feature
- Unique Key Code
- Rust Proof
- QuickLock
- 10 Minute Install
- Key Alike System
- Front Handle Dimensions: 5.5" Tall x 7.0" Wide
- Weight: 6 lbs
- Exterior Handle Material: Steel
- Interior Handle Material: Steel
All RVLock products come with a limited lifetime warranty. We stand behind the craftsmanship and quality of all our products.
Customer Reviews
100
reviewers would recommend this product
Write a Review
Ask a Question
I recommend this product
Lock is great. Definitely worth it!
Had to modify the lock hole slightly. No big deal. Only thing to think about is ours has full body paint and the new lock doesn't cover. I used black vinyl sticker material to cover the area.
06/18/2022
Matthew

United States
I recommend this product
Best door lock ever
Easy to Install, easy to program, quick delivery.
06/17/2022
Bruce B.

United States
I recommend this product
Good Product
Several of the screw holes didn't properly align with the lock where it mounts to inner door frame. I was able to make due with the mounting. The product seems high quality and was otherwise easy and quick to install. Overall, I am happy with the product.
06/16/2022
Dana H.

United States
I recommend this product
Replaced old lock with Keyless RV lock
Amazing how simple this was to replace. I had one minor glitch and did not realize I could expand the silver bolts. What a difference.
06/16/2022
Philip D.

United States
I recommend this product
Nice convenience
There are not so many electronic lock options for a Class C, so thank you RV Lock. All in all it's a nice lock, less a few complaints. It's a little hokey during the lock process. The latch feels like it wants to unlock, I kind of have to snap it back into place. Not sure why there are two key holes. The programming is a little wonkey, but works. Trying to align the red latch holes is a little trickey during the install. And yes, the beeps can be a bit annoying after a while. But all in all, I think it's been a great addition to my Class C.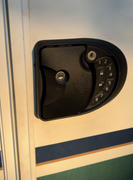 Hi Philip! This is Jake with RVLock and I wanted to answer some of your questions. Each RVLock does have to key cylinders. The main one is the deadbolt which operates from the key, keypad and keyfob. We are required to have the second Master cylinder on our locks for dealership purposes. This cylinder is a much looser key fit that your key as well as master keys can operate. Most of our customers choose to just use the master cylinder as that is where most of your security comes from. If you are having trouble with programming I'd be happy to send you over an instructions card. Programming only requires 5 easy steps to make it nice and simple to get your new code programmed. As for the beeps, if you press and hold the number 1 button for 3-5 seconds it will enter the Silent Feature and the beeps will go away. If you decide you want them back again, simply hold down the number 1 for 3-5 seconds again. I hope this helps, let me know if I can answer any more questions. Thanks, Jake RVLock Customer Experience Associate