RVLock V4.0 Keyless Handle for RV Doors Left Hand
For Doors with Hinges on the Left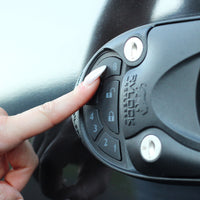 RVLock V4.0 Keyless Handle for RV Doors Left Hand
For Doors with Hinges on the Left
V4 Keyless Left Handle System Includes:
LEFT handed RVLock v4 Handle (door hinged on the LEFT side)
1 Remote Fob

Over 1 million secure rolling codes
Add up to 10 fobs per keyless handle
Add up to 10 keyless handles per fob

2 Keys and Installation Hardware
4 AA Batteries
Front portion dimensions: 4.25" tall x 5.5" wide
FITS MOST FIFTH WHEEL, TRAVEL TRAILERS & CAMPERS
(Keypad integrated into handle)
* Gallery Reference 360 Video Shows Right-Handed Lock
30 Day Money Back Guarantee
1 Year Limited Warranty
Designed for Security
We are revolutionizing the RV industry, one handle at a time. With custom RVLock key codes, steel core, and RVLock Durō keypad, you can travel with peace of mind.
Find Your Fit
Have a Fifth Wheel, Cargo, Travel, Horse, Toy Hauler, or Specialty Trailer? No Problem.
Simply review our fit guide to see if the V4 will work with your set up.
Verify Fit